A website with multiple sub-domains dedicated to Pinguis Website Design Clients and their Search Engine position.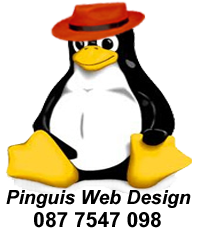 Creative Website Design
Stunning graphic design, crafted to quickly and clearly communicate with your customers to help you promote your business effectively.

Ultra Responsive Websites
Beautifully designed, fully responsive websites, designed to work on all devices. Easy for your customers to use and easy for you to edit.
Pinguis Website Design working for business in Ireland, free websites offer.
Development
Using the latest online technology.
Website Design
Building you a website that Works.
Web Hosting
Pay once, 12 month hosting plans.
SEO & Marketing
Get your company noticed Online
Recent Website Designed
Latest Website Design Clients
What Our Clients Say
I have got Pinguis Website Design to do two of my websites they are what i asked for and produce results. We are now the top Google Rated Perc
The Planning Process
The planning stage is the most important, because this stage decided and maps the entire website. This is also the stage that requires client interaction and the accompanying attention to detail, it may also require business images and description of the business, an about us and other details not known to the designer.
The Design Stage
This stage is typically involves moving the information outlined in the planning stage on the live website. The main deliverables are produced, site structure and more importantly the website.
The Development Stage
Development involves the bulk of the programming work, as well as loading content by your team or the client's. Keep code organized and commented, and refer constantly to the planning details as the full website takes shape.
The Correction Stage
This stage is very short and involves the client and developer communicating what changes are to be made and the best way to make them, again with focus on search engine optimisation results. Other small details are addresssed here.
Our Service Partners